We are delighted to learn from our friends at the NCSU Cooperative Tree Improvement Programme (CTIP) that the first publication from the collaborative pollination bag study is about to go to print! We're really looking forward to reading the publication when it's released but for now, the official citation is:
Austin J Heine, Trevor D Walker, Steven E McKeand, Jackson B Jett, Fikret Isik, Pollination Bag Type Has a Significant Impact on Cone Survival in Mass Production of Controlled Pollinated Seeds in Loblolly Pine, Forest Science, fxaa013, https://doi.org/10.1093/forsci/fxaa013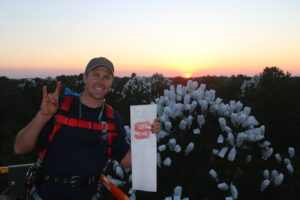 Abstract
Since 2009, deployment of full-sib families of loblolly pine (Pinus taeda L.) has gained prominence in the southeastern United States. To produce full-sib seed, a pollination bag is used to isolate female strobili from outside pollen contamination, and a known pollen is applied at the time of maximum female strobilus receptivity. The goal of this study was to compare prototype pollination bags made by PBS International to the industry standard kraft paper pollination bag with and without a support wire for female strobili survival and to assess their efficiency for mass production of controlled cross loblolly pine seed. A multiyear study compared 13 pollination bag types at more than nine seed orchard sites across the southeastern United States. There were significant differences among bag types for conelet survival at the time of bag removal that persisted until cone harvest 18 months later. Female strobili bagged in prototype PBS-I2 were over three times more likely to survive to cone harvest than strobili inside the traditional kraft pollination bag. Two of the PBS bag types had the highest estimated filled seed per bag. One PBS bag was faster to install and remove than the kraft paper bag with a support wire.
Thanks to all the team at NCSU and the CTIP collaborators for their hard work throughout and in particular, to Austin Heine (pictured here after a long day of bagging!) who has lead the project throughout.